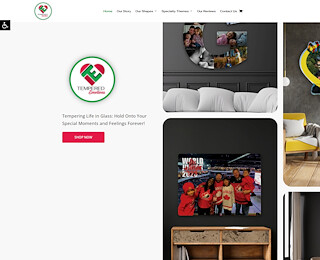 Did you know that a photograph can trigger stronger emotional reactions than a smell or a texture? In today's digital age, where countless images are stored on cloud servers or confined to mobile screens, the allure of physical photo gifts gains even more significance.
At Tempered Emotions, we have mastered the art of transforming these digital memories into tactile keepsakes that can be held, touched, and cherished for years to come.
The Emotional Impact of Photos
Photos are not merely pixels arranged on a screen; they are frozen moments that allow us to relive our past experiences. Whether it's a candid shot of laughter or a meticulously planned portrait, each photograph carries a story and an emotional payload.
They serve as a medium that captures not just faces, but the feelings and ambiance of the moment as well. Photos can also be incredibly cathartic, providing us a window back to times of joy or even moments of sorrow, offering a nuanced way to revisit and process past events.
Gifts, by their very nature, are meant to evoke joy and strengthen bonds. When these gifts incorporate meaningful photos, they offer a deeply personal touch that standard items can't match. A photo gift is not just an object; it's a conversation starter, a trip down memory lane, and a constant reminder of people and moments that are important to us.
Not only can photo gifts serve as personal mementos, but they also have the power to affect the collective memory of families, groups, and even societies at large. Imagine the nostalgic value of a family photo passed down through generations or a historical picture that encapsulates a turning point in time.
These are not just photos; they are pieces of heritage, embedded with layers of emotions and stories waiting to be told.
20 Ideas for Photo Gifts
1. Glass Photo Frame: A classic, but with the exquisite craftsmanship of Tempered Emotions.
2. Photo Book: A year of memories bound together.
3. Photo Calendar: Make each day memorable.
4. Personalized Photo Mug: Start your morning with fond memories.
5. Photo Puzzle: Piece together moments of happiness.
6. Photo Cushion: Comfort paired with personalization.
7. Photo Lamp: Light up your rooms and memories.
8. Photo Coasters: Add a personal touch to your table.
9. Personalized Photo Clock: Where time and memories align.
10. Memory Jar: Small photos, big memories.
11. Photo Necklace: Keep loved ones close to your heart.
12. Photo Blanket: Wrap yourself in memories.
13. Personalized Photo Poster: Art that means something.
14. Photo Ornaments: Celebrate festivities with cherished snapshots.
15. Canvas Prints: Turn your walls into galleries.
16. Photo Keychain: Take your memories on the go.
17. Custom Photo Skins for Laptops: Work meets personal.
18. Photo Apron: Cook with love and memories.
19. Customized Photo Album: Handpicked moments for keeps.
20. Personalized Photo Pen: Write with a piece of your history.
How We Turn Photos Into Art
At Tempered Emotions, we understand that converting a photo into a gift is an art in itself. Our process begins with meticulous selection, where we guide you through choosing images that will translate well into physical forms. Using state-of-the-art technology, we ensure that the quality of your image is preserved, down to the smallest detail.
After the selection process, the transformation phase begins. Depending on the product you choose, be it a glass frame or a customized cushion, our skilled artisans get to work. Each item is crafted to perfection, making sure that the emotional weight of the photograph is captured in the final product.
But the art doesn't stop there. We also offer various customization options, such as engraving messages or important dates, to make your gift even more unique. The final result is not just a product, but a carefully crafted keepsake that resonates with emotional value.
Safety and Durability of Our Glass
Safety and durability are paramount in all our offerings. When it comes to our glass products, rest assured that we use high-quality, shatter-resistant glass. Not only does this ensure that your photo gifts last for years, but it also provides peace of mind, especially in homes with children or pets.
Each glass product undergoes rigorous quality checks to ensure it meets our high standards. Because these are not just decorative pieces; they are entrusted with the responsibility of holding precious memories. Therefore, they must stand the test of time, both in aesthetic appeal and physical integrity.
Quality Assurance in Every Detail
At Tempered Emotions, we believe that quality assurance is not just a step in the production process; it's a philosophy that permeates every aspect of what we do. Right from the selection of materials to the training of our skilled artisans, we ensure that our commitment to quality is evident in every facet of our work.
When we say that we transform photos into art, we mean it in the truest sense. Every product that bears our name is a testament to craftsmanship that pays attention to even the minutest details.
In an era where mass production often trumps individuality, we have taken a different route. Each photo gift undergoes multiple stages of quality checks before it ever reaches your hands.
The colors are checked for accuracy, the materials for resilience, and the overall product for the fulfillment of our strict quality criteria. We aim to make each product in a way that honors the emotional value of the photographs you entrust to us.
Quality is not an optional extra; it is a fundamental expectation. And we make no compromises on that front. Your memories are as precious to us as they are to you. When you choose Tempered Emotions, you are not just opting for a product but for a promise–a promise of uncompromising quality and emotional integrity.
Explore Our Worldclass Photo Gifts at Tempered Emotions
Photographs have the unique ability to freeze time, capturing the essence of a moment for posterity. When these are transformed into physical gifts, they become timeless keepsakes that carry sentimental value beyond measure. At Tempered Emotions, we are committed to turning your cherished photos into lasting art pieces that can be enjoyed and shared for generations to come.
So why not take the Tempered Emotions challenge? Look through your digital photo albums and find that one image that captures the essence of a relationship, a family gathering, or even a moment of personal triumph. Then let us turn that digital memory into a tangible piece of art.
Trust us, it will not only be a gift for yourself or your loved ones but also a journey into the nuanced world of emotional storytelling through photography.