Article updated on 16/08/2022
Flowers for mom's birthday
Where do you get your mother a bouquet?
Pretty flowers are the perfect way to celebrate your mother's birthday. Sending a bouquet to Mom has never been easier, whether you're in town or across the country. A variety of birthday flowers for mom can be paid for online, and we can help you choose the perfect bunch as a gift for any occasion!
How to select the right Bunch for Mum
Sending a mixed arrangement of carnations, asters, and daisies to a mom who adores bright colours is a guaranteed way to express, "I love you." We provide a wide variety of one-flower bouquets for mom, from yellow roses to tulips and green flowers, for those who want to keep things simple. Choose flowers from her birth month if you're still undecided on what to send for her birthday!
Best flowers for mothers birthday
The customary birthday present is to purchase someone a card, but birthday flowers are far more meaningful since they are sent by those who truly care about mum or grandma on their big day. Of course, anyone may send birthday flowers to a loved one.
Roses, tulips, lilies, delphiniums, carnations, daisies, and chrysanthemums are just a few of the numerous flower varieties that can be included in a birthday arrangement for mothers.
The bouquets are available in a wide selection of colours, including roses, tulips, lilies, and carnations. Birthday flowers are typically adorned with vibrant hues that are appropriate for the occasion.
The professional florist will meticulously create a floral design for your arrangement and send it on the day you choose. Flowers are a universally loved birthday present, regardless of the age of the receiver, whether they're celebrating their 40th, 50th, 60th, 70th, or even 80th and 90th!
Is there a list of the flowers associated with the month of your birth?
Similar to zodiac signs and birthstones, the flowers of a person's birth month may tell us a lot about their personality. For mom's birthday, the greatest flowers are those that reflect her personality. These are the 12 birth flowers, in alphabetical order, as follows:
The carnation is the flower of January.
Violet is the birthstone for the next month, Febuary.
March is daffodils!
In April, there's Daisies
lily-of-the-valley-May
"Rose in June
In July, Larkspur
The gladiolus is in full bloom in August.
Aster, the month of September
Marigold is the October birthstone.
December: Chrysanthemu and: Narcissus
The lovely daisy bouquet would be appropriate if your mother was born in April.
Buying directly from an internet website has never been easier.
More reasons to buy online flower for mom's birthday
When you purchase from an online florist by mail order, you can rest assured that your mother will receive the freshest bloom. There are many online flower shops to order from throughout the UK.
When can I expect my birthday flowers to arrive?
Flowers for your mother's birthday will normally arrive on the day or next day you buy at checkout, no matter where the arrangement is being sent from. But you must check yourself and make sure the company do next day deliveries or not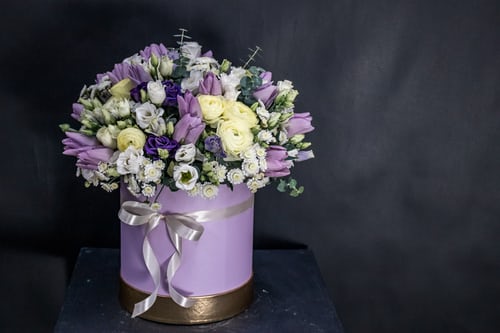 My daughter, who lives in Manchester, sent me a beautiful bunch of flowers today. When she bought me a bunch of flowers for my birthday, I was overjoyed and grateful for her thoughtfulness. The flowers were delivered by a courier in lovely packaging and with a heartfelt note from my daughter Rose, her husband Dave, and my granddaughter who gave me their love and best wishes. When I opened the box of flowers,
I couldn't believe that they had travelled from Scotland to London, given that Rose resides in London and I live in Scotland. Using the vase that was supplied, I gently undid the wrapping and cut off the stems of the arrangement of flowers.
To bring back memories of my upbringing in Shrewsbury, where my mother owned her own floral shop for many years until her retirement, I made sure to throw in freshwater. My favourite part of the arrangement was the tiny sachet of flower food that was included with the bouquet. I nourished my bouquet regularly to ensure that it lasted as long as possible.
Rose called me later that evening to find out if I had received any special deliveries in the mail. She was grinning as she anticipated my reaction to the beautiful arrangement of flowers she had purchased for me. When I finally broke the silence, I said, "What a gorgeous bouquet!" As a result of unpleasant encounters with local florists in the past,
she was thrilled to have found an online flower shop she could trust. She told me she ordered her bouquets from Prestige Flowers, a firm you can purchase from online in only five minutes, according to her. Another great time to buy gifts is for new mums who have just given birth.
Gallery of floristry for mum birthday or special occasion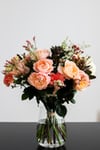 What do mothers and flowers have in common?
Flowers and Mother both have amazing healing power. Their touch is nothing less than magic. No matter how hurt you are or how much you are suffering, their presence will ease your pain. You will see them smiling even in the toughest situations.

What's the link between mothers and flowers?
Nature's most potent medicines are floral and maternal healing, two of the most common and effective. Their presence will provide you with some amount of comfort and relief.

Why flowers are the best gift?
The biggest reason we give flowers as gifts is to connect with an emotion. Whether its love, joy, affection, appreciation, sympathy, romance or apologies; flower giving communicates the deepest feelings in the most elegant manner.
Buy from an Online Florist
There are many online florists to choose from, so here's a round up of some of the best companies to send flowers to your mum,
Claire Florist is an online florist with over 25 years of experience, cusomer reviews speak for themselves, they are big on customer satisfaction. Fast devlivery times, hand written note
Homeland Florists offers next-day delivery with 1,000 plus reviews and a 4.5 star average rating. We had to mention this company. They also offer hand-written notes and gift wrapping for your choice of flowers.
Morning Flowers is another worthy seller of fresh flowers. They claim to pick most of their flowers in bud form for long-lasting flowers to the recipentent. Gift card included, fast next-day delivery.
You don't need a birthday to send her flowers, they are a gift for any time of the year to put a smile on her face!
Click on the link below to find out more
Recommended Flower delivery services
(disclaimer we do take affiliate commissions from amazon after your purchase a gift)
You can find more gift for mum articles here