Buy Tupton Ware
Made by skilled craftsmen using designs first created in the UK in 2001 in the village of Old Tupton, Derbyshire. Liquid clay is poured into moulds and as the clay begins to dry, the excess is taken from the middle and edges of the mould.
Once set, a turner removes any marks and seam lines to ensure the finished product will be smooth and unmarked. A tracer then draws on the unique pattern. This is then outlined in soft clay using a tool similar to an icing bag. The process is called tube lined and after hand painting, glazing and eight hours in the kiln, the Tuptonware pottery is ready for sale.
Tialilly is a British Outlet for Old Tupton Ware
Old Tupton Ware Tialilly Stock Available
£

15.95

£

15.95

£

32.95

£

15.95

£

32.95

£

30.95
Old Tupton Ware Pottery Video
Tupton Ware Collections Available on the Market
Tialilly Stock many of the Old Tupton Ware range, however if you do not find the products above then let us know if they are in the collections section, and we can check their availability for you. Just email [email protected] with the item description.
Red Yellow Poppy Collection
The Old Tupton Ware Poppy Vases are the largest vase range and make ideal gifts for Remembrance day. Bold red poppies surround the Vases, and hand painted thin lines representing stems flow from top to bottom.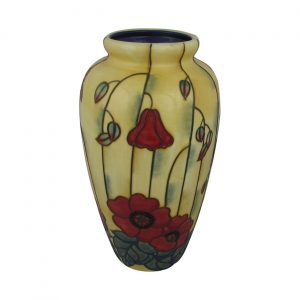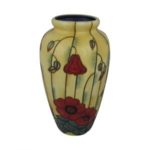 Farmyard Collection
The Farm yard is no longer available as new however you can find second hand Old Tupton Ware products if you look carefully. A scenic farmyard picture with cows grazing in the field and rooster standing tall. There's also cottage and duck orientated designs in this collection.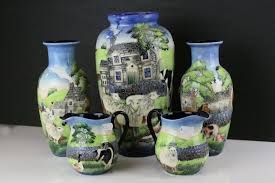 Lavender Collection
The Lavender flowers surround each vase in a pattern, flowing from bottom towards the rim. Curled Stems and many small flowers of lavender and purple colours.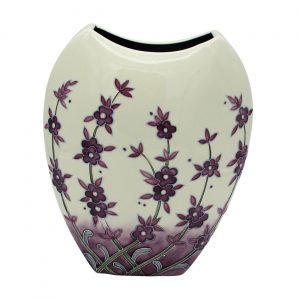 Summer Bouquet Collection
Old Tupton Ware most popular designs and created on many different products, honey pots, Milk Jugs, Trinket Trays and Spectacle stands. The Summer Bouquet design of yellow and red sun flowers on a cream back drop.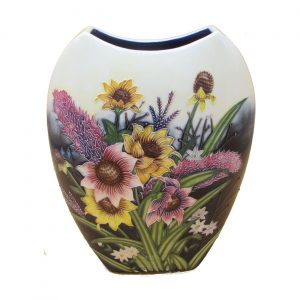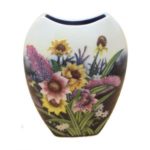 Frequently asked questions about Old Tupton Ware
How is Old Tupton Ware made?

Old Tupton Ware is Pottery made by a lengthy process similar to Moorcroft's renowned British pottery manufacturer in Stoke in Trent. Artist creates the designs and then a tracer draws the designs onto the pottery. Next, the tube liner slip trails the design. Then a glaze is applied to bring a shiny finish. The process takes even more time because of the kiln firing between stages!

Who is the Artist of Old Tupton Ware Jeanne McDougall designs?

Jeanne McDougall creates many of Old Tupton Ware's designs. She is a renowned designer of ceramic and glass in England. She got a master's degree in ceramics in the Stoke-on-Trent. Inspired by Art Nouveau.

What material is Old Tupton Ware made from?

The Pottery is made from Earthenware, Clay. Known as the first clay used to make pottery. Earthenware is fired at low temperatures and if subjected to higher temperatures, then becomes denser.

What is Old Tupton Ware most popular design?

A very popular Old Tupton Ware collection is the 'Summer Bouquet' yellow and red sunflowers art, available on Glasses Stand, Vases, Honey Pots, Teddy bear figurines and more products.

Buy Old Tupton Ware factory shop?

The Pottery brand Old Tupton Ware does not have a factory shop to buy the gifts from. You can buy items from trusted online outlets such as tialilly.com