Mothers day and the Carnation flower
Welcome to our chat on the carnation flower.
We shall look at the historical, cultural, and religious importance, and practical features of this popular blossom in this post. We'll also discuss why carnations are popular for special events like Mother's Day and January birthdays.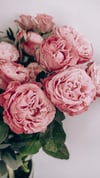 My take on the Carnation
"Carnations have always appealed to me because of their inexpensive cost and extended vase life. When I receive a bouquet including carnations, I know I will be able to enjoy them for much longer than other flowers. They provide a distinctive touch to every occasion with their bold range of colours and meanings."
History of the Carnation flower
Carnations are a versatile flower with a long history that dates back to ancient Greece. Its name, given by Theophrastus, means "flower of the gods" in Greek, and it has been used for generations to make garlands for special occasions. "and is derived from the Ancient Greek words for divine ("dios") and flower ("anthos")." (Dianthus Caryophyllus – Wikipedia, 2022) Carl Linnaeus classified the carnation as a member of the Dianthus genus in the 18th century.
Incorrect reports about the Carnation flower
There is incorrect information on many websites that uses the religious term "carnation" out of context and does not relate to the flower of the same name. Please disregard this erroneous research.
Maternal flower for mothers day
One of the carnation's are known to make attractive flowers for mothering sunday, and have practical virtues, like their low cost, making it an economical choice for flower arrangements. These flowers are particularly well-known for their lengthy vase life, delivering good value for money.
In summary, the carnation is a well-known flower with a long history, cultural and religious importance, and practical benefits. It's a favourite choice for special events like Mother's Day and January birthdays because it's an inexpensive and long-lasting cut flower alternative. Consider the carnation the next time you buy or deliver flowers.
Works Cited
Dianthus caryophyllus – Wikipedia. (2022, January 1). Dianthus Caryophyllus – Wikipedia. Retrieved January 8, 2023, from https://en.wikipedia.org/wiki/Dianthus_caryophyllus